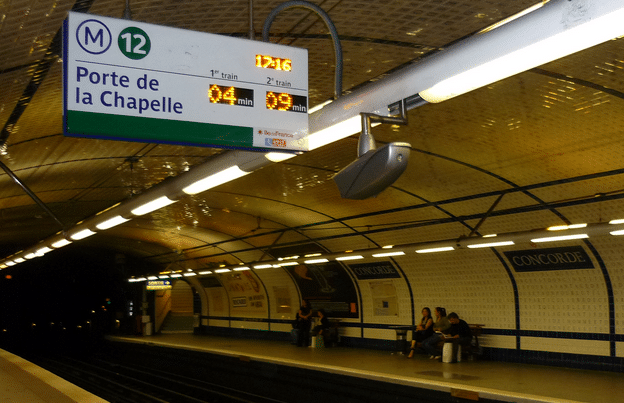 SUBWAY/METRO STATION
Metro lines and biggest stops in Paris.
You are tourist in Paris and eager to visit the city and its many touristic attractions, this article presents the different metro lines as well as the various accesses for tourist sites.
There are 16 subway lines, we will list the 14 that have the most monuments on their way :
– Line 1 from défense to the castle of Vicennes, with 25 stations
– Line 2 from Porte Dauphine to the Nation with 25 stations
– Line 3, from Pont de Levallois to Galienni with 25 stations also
– Line 3  » from Gambetta to the door of the lilacs with 4 stations
– Line 4 from Clignancourt to Mairie de Montrouge, with 27 stations
– Line 5 from Bobigny – Pablo Picasso to Place d'Italie with 22 stations
– Line 6 of Charles de Gaulle – Etoile to the Nation with 28 stations
– Line 7 of the Courneuve – May 8, 1945 in Villejuif – Louis Aragon / City Hall of Ivry with 38 stations
– Line 7 from Louis Blanc to Pré-Saint-Gervais with 8 stations
– Line 8 from Balard to (Créteil) Pointe du Lac with 38 stations
– Line 9 from Pont de Sèvres to Mairie de Montreuil with 37 stations
– Line 10 Boulogne – Pont de Saint-Cloud at Gare d'Austerlitz with 33 stations
– Line 11 from Châtelet to Mairie des Lilas with 13 stations
– Line 12 of Front Populaire in Mairie d'Issy with 29 stations
– Line 13 of (Asnières-Gennevilliers) Courtilles / Saint-Denis – University in Châtillon – Montrouge 32 stations
– Line 14 from Saint-Lazare to Olympiades with 9 stations.
The biggest stops on the Paris metro :
The North station
Saint-Lazare
Lyon station
Montparnasse
East station
République
Les Halles
François-Mitterand library
La Défense
Bastille
Chatelet
Hotel de ville
Metro Station Stop near touristic places
– We have the Trocadéro metro (line 9), Military School (line 8), Bir Hakeim (line 6), RER C Champ de Mars stop, to get to the Eiffel Tower
– Anvers station (line 2), station Abbesses (line 12) to get to the basilica of the Sacred Heart
– City or Saint-Michel (line 4), RER B and C Saint-michel – Notre-Dame to get to Notre-Dame Cathedral
– Chatelet Les Halles station (line 1; 4; 7; 11; 14; RER A, B, D) to get to the Pompidou Center
– Charles de Gaulle metro – Etoile (line 1, 2, 6, RER A), Franklin Roosevelt (line 1), George V (line 1) or Champs-Elysées – Clemenceau (line 1 and 13) for the Champs-Elysées to get to the Arc de Triomphe and Champs Elysée
– Versailles station (RER C) to go to the Palace of Versailles
The following companies manage the Paris metro network: RATP & SNCF.
You are on a publication of the Lostandfound-paris.com website.
This site offers independent information in case of loss of an object in the city of Paris.
This site is not a partner, associate or affiliate with the following brands: RATP & SNCF.
« RATP » & « SNCF » are registered trademarks.